How to Deal With Arguments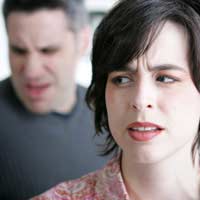 Our families are the people who are closest to us...unfortunately, much as we love them, this also means that they know exactly how to push our buttons and what will upset us. Arguments are an inevitable part of family life and to not argue would not be normal...Learning to deal with and in some cases how to avoid arguments escalating is something that will hopefully lead us to a more calm and harmonious family life.
When An Annoyance Becomes An Argument
It might be easier said than done, but little niggles and grievances can fester and escalate until they turn into full blown rows – so it's much better to get these annoyances out into the open while they are still relatively minor. If it's something that is important to you, it can be harder to do, but make sure that everyone in the family feels able to bring up any issues that upset them at any time, as this avoids people hiding their feelings and then exploding at a later date. Be open to listening to other family members' grievances, and don't dismiss them out of hand.
Dealing With Difficult Subjects
If the problem that you're arguing about is a delicate subject, it's even more important to listen carefully, don't appear shocked or upset, and don't interrupt. Sometimes, just letting them get the issues out of their system in a calm way can be a way of defusing a potential argument.
Even if you don't agree with what they are saying, resist the urge to contradict, talk over them or interrupt. You'll have your chance later, and if you let the aggrieved family member finish, you'll get the whole story.
Be careful with what you say in an argument – don't accuse or blame the other person by saying "You do this" or "You never do that" as it puts them straight on the defensive. Try to be calm and rational, and don't raise your voice as the argument will escalate into a shouting match and you won't be able to resolve anything.
Try to remember that just because someone is related to you, it doesn't mean they will always agree with you. They still love you – but we all have differences in character, generation and gender which can mean we have a completely different, but equally valid, opinion.
Reacting To Arguments
If someone says something that you know in all honesty is designed to push your buttons - don't rise to it. Flying off of the handle an turn a small bicker into a massive argument, and worse, it can lead to all manner of previous grievances being re-aired, which is totally counter-productive. Count to ten and try to let the provocation wash over you so that you can find out what the real issues are.
It's best to try and react to any argument or confrontation when you've actually had time to think about it, and maybe this will help you all decide what to do if there's a decision to be made, or resolve the problems amicably without a screaming row.
The Aftermath Of An Argument
If there's been a big falling out, and both (or all) parties are still smarting, be the bearer of the olive branch if you can and get in touch with the person you fell out with as soon as you can to resolve the issue. If you let bad feelings tester you could end up with a rift that's hard to get over and it's just not worth it.
You don't have to give in or change your point of view – just tell the other person that you are getting in touch because you hate it when you argue, and don't want to fall out. Agree to disagree, and you can't go too far wrong.
You might also like...