Working Patterns: Changing Your Work Hours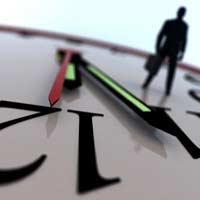 If you feel like your work life balance is getting out of kilter and that work is getting too much for you, you could always consider relieving some of the stress by asking your employer if you can change your working hours. In some circumstances, employers have to consider any application for flexible working, although anyone has the right to ask.
What Does The Law Say About Flexible Working?
Some types of employee have a legal right to ask for flexible working arrangements. You must be an employee (not an agency worker) and you have to have been working for the same employer for at least 26 weeks before you apply.
You must either:
have a child under the age of six - or under 18 if disabled, who you are responsible for.
be the spouse or partner of someone who has the above - and be applying for flexible working to care for the child
be a carer for an adult who is a spouse, partner or relative - or someone else who lives with you.
Legally, your employer has to seriously consider you application, and can only reject it for a good business reason.
Although you have a right to ask for flexible working – this doesn't mean that your employer has to give it to you, they only need to seriously consider it. And if you don't have a legal to ask for it – some employers are open to being asked anyway and have good flexible working policies already in place.
What Are The Main Flexible Working Options?
There are plenty of different options – it's not just a case of working part time or full time any more. Flexible working can also cover working from home full time, or some of the time. The main flexible working patterns are:
Part-time working. You agree a number of hours to be worked with your employer, which might mean that you can start work after you've taken the children to school, or perhaps only work three days a week.
Flexi-time. You're contracted to work a specific number of hours, but these can be worked at any time between set agreed points – such as 7 in the morning until 7 at night. Works well if you have to commute and have transport problems.
Job-sharing. Two employees of the same company share the same role, both doing the same work but on different agreed days of the week.
Working from home. Working full or part time from your own home, which means that you will have to be disciplined! You keep in contact with the office by phone and e-mail.
Term-time working. You arrange with your employer to take (usually unpaid) leave during school holidays
Staggered hours. Where employees cover a longer range of opening hours by staggering start and finish times.
Annual hours. This is a complicated flexible working arrangement which calculates the hours you are contracted to work across a whole year. These annual hours then normally split into 'set shifts' and 'reserve shifts' worked when they are needed and when they can be arranged.
Compressed working hours. You would work the same number of contracted hours but over fewer days. Working longer hours four days a week then gives you one day a week off.
Where Can I Get Advice About Flexible Working?
There is a set procedure for applying for flexible working arrangements if you fit the criteria, but any employers have their own arrangements too, so your first step is to approach your manager and ask for guidance there.
If you need extra help, there is a useful guide to the rules, how to apply and what to do if you need to appeal an employer's decision by visiting the website:direct.gov.uk.
You might also like...