Should I Stay at Home With the Kids?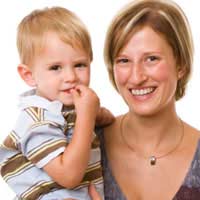 It's that great big dilemma that faces all new parents – you have more mouths to feed but you have an extra person to look after. Should both parents go out to work? Is it really feasible for you to be able to afford childcare and go to work full time?
Check Your Finances
The problem is that unless you have a large income, you could find that you're simply going to work to be able to pay the childcare bills! So before you decide whether it's best for you, you need to take a serious look at your take-home pay - after childcare costs have been deducted.
It's Not All About The Money
Most people enjoy being able to get out of the house and talk to 'adults' – many new parents say that one down side of being at home is the lack of intelligent conversation and a sense of being isolated from everyone.
Do you enjoy your work – if not, now could be the ideal time to take some time out. Think about taking an extended maternity leave allowance (some employers are very generous) and ask about career breaks too. These options give you time to acclimatise to being a parent, and the freedom to return to work (or not) if you feel that you want to.
If you really don't know what you want to do, the best people to speak to are other parents. Ask people who work full and part time how they cope – and talk to parents that you know of who stay at home full time. They will be able to tell you the truth about the problems, the benefits and how to make it work.
Being a working parent doesn't mean that you don't care about your kids or that you're a bad parent, and likewise you don't have to live a life of drudgery just because you choose to stay at home. It's what's best for your family that matters.
What About The Children?
You might think that you've made your mind up before your child is born, but life can throw curveballs. If you have a child with a medical condition that requires lots of visits to doctors or hospital, or who has special needs, you might find that it's just better all round if you take the time off to care for them. There are childcare options available for children with special needs, of course.
When Things Go Wrong
If you do decide to go back to full time work, you have to accept that there will be times when things don't go according to plan and you have to rely on the goodwill of others. Make sure that you have a good support network of people that you can call on in a crisis!
You also need to agree with managers and your partner about who will be responsible for sorting out minor emergencies such as illness or a problem with childcare. If there's any way that you can share the burden, that's great. If one partner is always expected to drop everything at work and stay at home it can lead to resentment.
Weighing Up The Pros And Cons
Deciding whether to stay at home, work full or part time when you have children is such an intensely personal decision that you really need to spend as much time as possible thinking of the pros and cons of each option – even after you've worked out the financial options.
If you decide to work, both of you get to contribute towards a higher income for the family – or if you're a single parent you have the independence from benefits. It keeps both your careers going and means that there are no lengthy interruptions which could cause resentment if you find yourself being overlooked for promotion.
For your children, there's the bonus of being introduced to other children at a young age, and gaining their own independence – not becoming too clingy.
On the side of staying at home – well you get to see every one of your child's milestones – first words, teeth, steps. You won't have to feel guilty about leaving them with strangers, and you'll also be able to spend more quality time with your family as you don't have to cram all the chores into the weekend!
You might also like...