Exercise Can Reduce Stress at Home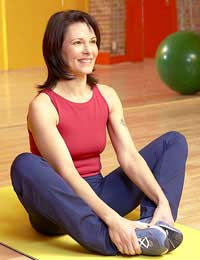 When you are feeling stressed at home the last thing you feel like doing is exercising – but according to the experts it could well be worth pulling on your tracksuit and burning up some calories. Whether you prefer running, cycling, going to the gym or playing tennis with your friends, you are likely to return home at the end of the session feeling a good deal better for getting yourself moving.
Proof of the Pudding
The key to using exercise to help de-stress in your home life is to have a balanced approach, according to the experts. Getting sweaty once a month is unlikely to have any effect at all – but equally, overdoing it and spending all your time working out will result in extra stress on the body and could affect your mental as well as your physical health. Research has shown that regular exercise can burn up stress hormones and help muscles to relax. It can, of course, also improve your heart and lung function and have a general, positive effect on your overall health. This will make you feel better and more able to cope with the general stresses of your home life.
Feeling More Positive
Exercise is a great tool for those who are prone to feel anxious or depressed. In conjunction with other support and treatment, and after advice from a health professional, it has been shown to help reduce anxiety. Regular exercise can increase serotonin levels in the body, making you feel generally happier. Simply getting out of the house, enjoying the fresh air and taking part in an activity away from your daily home or work life can also have a very positive effect on the brain.
Where to Start
Don't leap straight into a full-blown exercise programme. Begin gently and slowly build up. Start by walking for 20 minutes or so three or four times a week. Walk briskly, as if you are in a reasonable hurry to reach your destination. Try to cut down on using the car. Always take the stairs rather than the lift if there is a choice. Then slowly lengthen the duration of your walks or try to speed up so you are jogging gently for a few minutes between bouts of walking.
Socialise Through Exercise
Think about joining a club or taking part in exercise with a friend. This will give you a chance to socialise as you exercise and will once again take your mind off your anxieties. Try joining an aerobics or step class, or becoming a member of a yoga group. Many towns and cities have running clubs for beginners where you can train with others of similar fitness levels. A regular weekly session of tennis, squash or badminton with a friend could also be great fun.
In the Swim
Swimming is a good form of exercise for overall fitness and many find spending time ploughing up and down the pool is also therapeutic. Once again, start off gently. Then build up to a regular half-hour swim once or twice a week. The activity will work your muscles and help you to let off steam. Having spent time in the cool water could well leave you feeling, fresh, invigorated and ready to face the world within your own four walls again.
You might also like...