How to Prevent an Argument: Interview With a Psychologist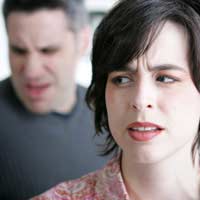 Graham Allen was always fascinated by different personalities and also had his own battles with anxiety as a youngster. Today he has a degree in Psychology and a diploma in Psychotherapy as well as a teaching qualification. He runs a private therapy practice in north west London and also works at a sixth form college as part of a counselling team. Here he offers his advice on preventing an argument.
Q: Do you feel people today are under a lot of stress?
A: Yes I do. I think we have more demands on our attention and time than ever before. In the last 20 years we have had our natural boundaries eroded quite drastically by technology. Performance culture has now invaded everything from health, education to the way we travel. So people rarely get away from it all. It's a cliché but we really do live in a compressed 24-hour society.
Q: What tend to be the main causes of these stresses?
A: Well, many people spend the days responding to emails, texts, mobile phones, voicemail. In addition, we have the endless creep of target driven culture at work, which can be very harsh especially with the huge pressure of unemployment lurking. There is an expectation of immediacy too, which means the natural time breaks of the past such as waiting for the post are a thing of the past.
Q: Can stress impact on relationships?
A: Absolutely - we know that stress is two pronged - it affects people's emotions and thoughts which then leads on to physical effects. The combination can be devastating to people's relationships. Emotions and thoughts can be hidden to oneself and one's family/partner, which makes locating the source difficult. By the time one has found the source relationships have started to slide.
Q: Can stress manifest itself in the form of arguments?
A: Yes again. Unless people are fully aware of the source of stress, they can project on to their nearest and dearest - quite understandably. But this can make things worse as any idea of the home being a haven starts to get compromised. A cycle is then set up where people need to talk and be understood but lash out and hence push away sources of potential help.
Q: What can someone do to avoid causing an argument when they feel very stressed?
A: Try to locate the source of stress and identify it. This gives you a chance to deal with it rather than taking it out on a partner or family. So if it's a work issue, that's where it needs sorting out preferably. This is easier said than done and requires what I would term emotional intelligence - ie understanding where emotions come from.
Q: What should someone do in order to avoid being provoked into an argument by someone else who is very stressed?
A: This is tricky as being calm can really annoy people. Generally being attentive and perhaps offering an explanation of how the other might deal with the stress that may be causing the provocation can be helpful. At times though, simply not being provoked is helpful as is being direct about how someone is making you feel if they continue.
Q: Can you give us any exercises or techniques people can do to try to avoid arguing at home?
A: Again, locating the source of the stress and applying a problem solving attitude - be a detective not a policeman. Thinking: "Why is this happening and what can I do to alter it?" Sometimes though you simply need to calm yourself and distractions can also help, so music, cooking, gardening , sport or the old "count to 10" may all help.
Q: At what point do you believe a family or couple should seek help regarding arguments or fights at home - and to whom should they turn?
A: If they persist and start to erode the relationship. Disagreements and arguments that are productive can be very healthy - couples need to let off steam at times or simply test some boundaries - just as children do. However, you also need to take responsibility too. But if they get worse and more destructive than an outside view can help such as a counsellor or therapist.
You might also like...