Am I Entitled to Any Benefits?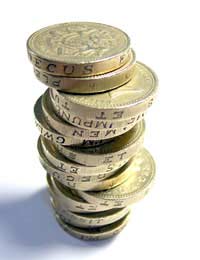 The benefits system can be scarily complicated, so much so that a lot of people who work with benefits don't know the ins and outs of all of them. But it's always worth investigating whether you're entitled to anything, as it's believed that millions of benefits go unclaimed every year.
Income Support
First things first – if you don't have a job, you probably already know about Income Support. It's designed for people who either trying to get by on a very low income, or who can't work at all.
What you can claim – and if you can claim – depends on any money you are earning or have saved. If you have over £8,000 in savings, you can't claim income support at all (unless you are over 60 when you can have £12,000 saved.) Also, if you have over £3,000 your payments will be reduced. You must be 16 or over to claim it, not working more than 16 hours per week, and if you have a partner they must be working less than 24 hours per week.
Jobseeker's Allowance
If you are 'actively seeking' employment you may be entitled to claim this benefit. You must be under 65 years and male, or under 60 and female, and you need to be unemployed or working for less than 16 hours a week. To get this benefit you also have to prove you are making an effort to find work.
The Working Families' Tax Credit
This benefit is for working families, and you could be eligible whether you are single or married – or in paid or self employment. If your family income is below a certain amount, by you can claim tax credits, the amount of which depends on your income. There are also Tax credits for families with more than one child, and extra payments for disabled children.
There is a Tax Credit Helpline where you can find out more – this benefit can be complicated! The number to call is: 0845 300 3900.
Child Benefit
Child Benefit is a benefit that doesn't depend on income, paid for each child of a family. If you have children under 16, or under 19 if they are studying full-time, you could be entitled to claim Child Benefit as long as you are responsible for the children.
Housing Benefit
Housing Benefit is paid by the local council and helps people with rent payments to a local authority, private landlord or social housing association. It's only available to people on a low income. You can still work, but if you have any savings over £3000, it can affect your claim.
Council Tax Benefit
This benefit is also paid by your local council. You could be eligible even if you are working full time, as long as you have a low income and savings of less than £16,000, and you may even be able to claim if you are already getting a council tax discount. For any housing and council tax benefit advice, contact your local council.
Disability Living Allowance
If you need extra support or help with looking after yourself, you may be able to claim this benefit, which is not means tested. Disability Living Allowance has no impact on claims for Jobseekers Allowance or Income Support, but depends instead on your personal level of disability, which has to be assessed by the benefits office. Children are also entitled to claim, and you can have savings which won't affect your payments.
To claim, you have to prove that you need the help and have done for at least three months – and that you expect to need help for a further six months at least.
Incapacity Benefit
If you're not entitled to Statutory Sick pay, because you're not working, and are under state pension age, you may be eligible for Incapacity Benefit. There are various different levels of this benefit and it's another complicated one to assess, as it will depend how long you've been ill, how old you are and whether you've paid National Insurance. Contact your local benefits office of Citizens Advice Bureau for more information.
Invalid Care Allowance
If you are a carer who works more than 35 hours a week for someone who claims attendance, disability, war pensions or industrial injuries disablement allowance, you could be entitled to claim an allowance for taking care of them. The benefit is income dependant so if you earn too much you won't be eligible. If you claim carer's allowance, you can find it affects other benefits too, so you need to get advice first.
You might also like...
@Smity. Without your know all your circumstances, we cannot tell. Your best option is to check out the
Turn To Us website
.
StressFreeHome
- 6-Nov-14 @ 12:16 PM
I just gone down to 12 hours in work I have 8 yr old daughter am separated from my husband can I claimed any benefits
smitty
- 5-Nov-14 @ 11:59 AM
Hi I work 16 hrs per week I don't get any money from anywhere else I get between £139 and £169 per week I have to pay £187 per month towards my rent and £60 pr month council tax can you please advice if I any entitled to any income support
My wife is on an average £540 I have applied for a joint assessment but told my wife earn more than the law says we need to live on. Sorry I mean £540 monthly. Thank you
retriever4
- 29-Oct-13 @ 8:23 PM
I found the information very valuable
Eileen goddess
- 26-Sep-13 @ 6:27 PM