Manage Your Household Bills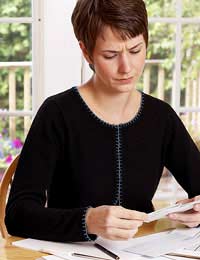 Managing money is something that many people are scared of and like to put off until the red reminders have given way to threatening letters – but it doesn't have to be that way. These days, even though the bills are going up and the cost of living is undoubtedly rising, there is still no need to let fear of finances take hold and cause you worry.
First Things First – Make A List
If you have a PC (personal computer), there are many different pieces of free software that can help you budget your monthly finances. You can set your own spread sheets up if you are that way inclined, or download some budgeting sheets from the Money Saving Expert website.
These will help you to see exactly what's coming in and what's got to go out every month, and it will be plain to see if you are exceeding your income. It can also help you decide where savings can be made, and where you might be able to negotiate better deals – for example interest rates on credit cards, or fuel bills.
The Everyday Essentials
There are some bills that you need to make sure are paid without haggling because you could end up cold or homeless! Set up direct debits to pay your mortgage/rent, and fuel bills. It's not a great time to be trying to negotiate a remortgage, but rents can often be negotiated, especially when you're moving into a new property. You might be able to get some of the utilities thrown in....at the moment the rental market is saturated.
Utilities – well there are still deals to be had and if you have a bank account that supports direct debit, sign up for a duel fuel account if possible as these, combined with a direct debit payment scheme, generally save you money. You'll also know that the fuel is taken care of. If you can cap your bills, or fix them, it's debatable whether it's worth doing it the long term, but you might want to fix it just for a while so that you know where you stand every month and don't have to worry about being hit with a massive gas bill hike if prices start to climb again.
Water bills can be paid by direct debit too, and if you are in a small household that isn't already served by a water meter, you could save money by having one fitted.
You'll need to account for council tax (remember you are entitled to a discount if there's only one person in a property) and TV licence too. Both of these can be paid be direct debit although you don't financially benefit from doing so – it just takes the stress out!
Food And Fun
Life isn't all about paying bills – you want to be able to live a bit! Obviously you need to budget for food – it can be a good idea to set aside a food budget every week or month and just stick to that religiously. Shop around for special offers – Internet shopping is great for being able to compare your grocery shopping prices and spot special offers. If you are in the shop you can be tempted by the things the stores want you to buy, but if you are online you can stick to your budget and easily compare prices at the click of a button.
Make sure you leave enough money in the budget for treating yourself – even just to something small – and for socialising. Once you've accounted for bills and food, you can see how much is left over, and decide how much you want to spend every month on little luxuries.
Credit And Savings
If you have credit cards, loans or overdrafts (and lets' face it, who doesn't) these also have to be paid every month. Try and draw up a payment plan that takes into account the fixed payments (such as loan repayments) and credit cards (try and pay off as much as possible every month and don't stick to minimum payments or you'll never pay the debts off.) The Money Saving Expert tools can help you to work out how to pay the debts off efficiently but try not to miss payments.
If you have debts, the accepted advice is pay those off rather than save money. However it's always advisable to keep back a small amount at least for household emergencies. Try and establish a regular amount every month to go into an emergency fund if you can.
If you start to have problems making payments on any bills, the first thing to do is contact the supplier/creditor. You might be able to come to an arrangement to reduce payments. If things are really bad – the Citizen's Advice Bureau employs money advisers trained in debt management and they will be able to contact creditors for you and try to help you out.
You might also like...