Make the Most of Your Household Money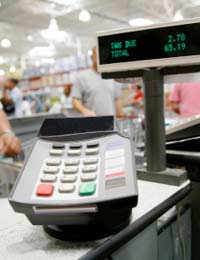 In these credit crunch times, it's frightening sometimes how fast your money seems to be disappearing. The cost of living seems to be escalating at a rate of knots with fuel, household bills and food all costing more, council tax increasing year on year and most of us not having the luxury of a salary that increases with it. So how can you make the most of what you've got and not let the recession get you down?
Everyday Household Bills
Sadly, you can't get out of paying those ever increasing bills, unless you want to be cold and homeless. But there are sneaky ways to minimise them.
Fuel Bills
If you have a sneaking suspicion that you're paying way over the odds for your fuel, try logging onto one of the price comparison websites to see whether you can get a better deal. When the prices were rising constantly the deals on gas and electricity were few and far between but there are always companies looking for new customers so don't let that put you off shopping around and saving money.
Often a duel fuel deal is one of the cheaper options, and you can save pennies by arranging to pay your bills by direct debit or manage your account online. In some cases it can also be economical to fix fuel prices as some companies offer that as an option. Bear in mind that if prices drop, you won't benefit from any reduction – but you will have at least know exactly how much you will pay for fuel for a fixed term.
Food Bills
Food is one area in which massive savings can be made if you know when to look and spend wisely. With the major players, the big supermarkets are always in competition with each other to offer better prices, so take full advantage of this and price compare on websites like supermarket.co.uk. Browsing the Internet allows you to shop around for offers on the things that you buy every day, and you can see what's available that particular week from the different supermarkets.
You could also take the bargain route and head for the discount stores such as Aldi and Lidl, who offer non-branded foods and groceries at much cheaper prices than the big supermarkets. You don't get the luxury shopping experience and you have to take your own carrier bags, but it saves money.
If you shop online, you can usually select time slots for delivery that will be cheaper than others. Monday mornings and most weekday early slots work out more expensive than evening slots which aren't as popular...wait until after 7pm and you could save a few pounds every month just on delivery costs.
Credit Card Bills
It's not as easy as it has been in the past to negotiate money off credit card interest rates or swap to 0% rates for months on end, but you could have some leverage if you have a good credit score. You can check your credit ratings on websites such as Experian.co.uk first, and if you think you're brave enough, contact your credit card company and see if you can reduce the rate. You might even be able to negotiate a payment holiday on some loans and cards, if you are cheeky enough.
If the current companies refuse to bend, there's nothing to stop you applying for another card and transferring the balance over on a lower rate. Be warned though, if you don't have a good credit rating you could be refused... and if you are turned down for credit, that affects your rating. Only do this if you know you have a good chance of being accepted!
You might also like...