Divorce and Separation Laws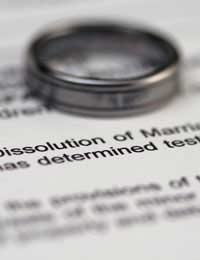 It's sad, but it's estimated that around 50% of UK marriages end in divorce. We all assume we will be one of the other 50% but what do you do when it happens to you?
What Is The Difference Between Divorce And Separation?Separation is just when you decide the marriage or relationship is over, and choose not to live together any more. As soon as you decide to live apart, you are classed as separated for tax and benefits purposes too.
What Is Judicial Separation?
Judicial separation isn't very common, and usually only used if there's a religious or moral opposition to full divorce. The procedure is exactly the same and any disagreements around money or children are settled as if the couple were divorcing, by a court. Although you no longer have to live together, you're not free to remarry.
How Can I Get A Divorce?
To get divorced you have to prove to the court that your marriage has broken down beyond repair, and that one or both of you believe that you can't stay married. You can apply through any divorce county court in England and Wales, if you've been married over a year, and one or both of you has been living here for the year before you apply.
What Are The Grounds?
Adultery – if your spouse has committed adultery. If you live with a spouse who has committed adultery for more than six months after you find out about it, you can't use this as grounds for divorce, unless it's carrying on at the time you file for divorce. You don't actually have to name the other party, and in most cases it's usually better not to – it can make things worse.
Unreasonable behaviour – This covers any kind of behaviour that you've found it hard to live with. When you file your divorce petition, you should think about the things that have happened and try to sum them up in a few paragraphs. If you carried on living together for six months or more after the last incident, you won't be able to use that behaviour as grounds for the petition.
Desertion – this is if your husband or wife has deserted you for more than two years – that is they left you without your agreement and with no good reason.
Two years' separation - You can file for divorce if you have lived separately for more than two years and your spouse gives their consent to a divorce. You must not have lived together for more than six months in that period, and you must have been apart for a total of at least two years.
Five years' separation – If you have lived separately for more than five years, you or your husband can apply for a divorce without the other party's consent.
Most people use adultery or unreasonable behaviour as their grounds, to save having to wait for two years.
How Long Can It Take?
This varies depending on the circumstances. If it's all amicable and agreed, it can be as few as four months, but these things can drag on for much longer if there are issues to be agreed surrounding the children or property, or if the petition is defended.
What Happens?
A petition is filed with the court, along with your original marriage certificate. If there any children, you will also have to file a Statement of Arrangements to satisfy the court that the children are going to be taken care of. The court fee is paid at the time you issue the petition – currently £300.
The court processes the documents, and sends a copy to the other party (respondent) and one back to you (petitioner). The respondent should complete and return the 'acknowledgement of service' form, saying they have received the paperwork and agree with it, within seven days.
If the respondent wants to defend the divorce, they have 28 days to file an answer. This is unusual but does happen. In most cases, the petition is undefended and you will be sent more paperwork, including an affidavit which you will swear either at a solicitor's office or at the court. Once you've signed this affidavit, the file will be read by a District Judge, and he will decide whether you are entitled to a Decree Nisi. This isn't the final divorce, it's just the court decree that you have grounds for divorce and have proved them.
You will be told in advance when your Decree Nisi will be pronounced in court - you don't need to attend.
Six weeks and one day later the Petitioner is able to apply for the final decree – the Decree Absolute. This is all done on paper, there is no court hearing, and costs £40. When you get this document sealed by the court, you are legally divorced and free to marry again.
You might also like...