Buying or Selling Your Home Together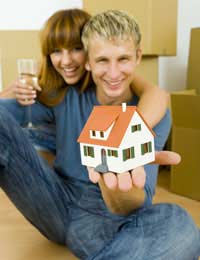 Buying your first house, either alone or as a couple, is a big step, and can be daunting. It's also becoming more difficult in these cash-strapped times of recession, but don't let that put you off looking. The process is simple and it is a buyer's market if you can get a mortgage – so there are bargains to be had.
Finding Your Ideal Home
Check estate agents windows, websites and local press to see what's on offer. Often the websites will be more up to date than the newspaper property section as these are prepared in advance, but you'll get a good idea of what's available across the board from a supplement in the local press.
Remember that the prices quoted are usually open to negotiation...don't rule out homes above your budget as if the seller is determined to sell, they will usually be prepared to negotiate a good offer with you.
It's also worth registering with as many estate agents in the area as you can, because they will know what you're looking for and can let you know if a good bargain comes on the market that fits your specifications.
When You've Found The Right House
Don't make an offer on the dream house straight away – or at least until you've been back to the house a couple of times. If you're absolutely sure you want the house, put in an offer that you think is reasonable, and ask the seller to take the property off of the market.
When you make an offer on any house, the estate agent is legally bound to pass it on to the seller, even if they think the seller will reject it. Make sure that you have a mortgage agreed in principle and a solicitor or conveyancer lined up to get things moving as soon as your offer is accepted.
The conveyancing Includes:
Local searches
Land charges search
Land registry
Stamp duty (if the property is valued at more than £175,000)
Once the conveyancer has done all of the necessary checks, you will pay your deposit (usually 5 – 10% of the agreed price although it depends on what you can afford) and exchange contracts. At this point, the sale is legally binding and you will lose your deposit if you back out. A date for completion is agreed at the time of exchange, and the house becomes legally yours on that date.
Selling Your Home
The first thing to do when you are thinking of selling your home is to get it properly valued. Ask at least three estate agents to give you a valuation – the practice of inflating prices to get business seems to be falling out of favour in today's economic climate but it can still happen. Look for a realistic valuation and don't be taken in by sales patter.
The best time for selling houses is said to be spring and autumn as sales seem to tail off around Christmas and also school summer holiday times. You're more likely to get close to the asking price if you sell your house when the market is picking up.
Home Information Packs
In 2007, the Government has introduced Home Information Packs (HIPs). Anyone selling a house is now legally obliged to provide one of these packs, and you'll probably have to pay up front to the estate agent if you use one, for them to prepare it.
You might also like...