Adoption and Fostering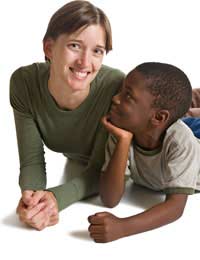 Adoption has been somewhat in vogue in recent years as celebrities such as Calista Flockhart, Madonna and of course the prolific inter racial adopter Angelina Jolie have adopted one or more children.
What Is Adoption?
If you adopt a child, you will be party to a legal adoption order which severs all ties with a child's birth family and gives you their parental rights and responsibilities. The child's biological birth parents lose all legal rights over the child and can't ask for them back. The child takes your surname and will receive all rights and privileges of a biological child - including inheritance rights.
Who Can Adopt?
If you decide that you want to adopt a child, you must be over 21, and be able to provide a child with a permanent, stable and loving home. You don't have to be married and your race, religion and sexuality are not an issue. There is no maximum age, and you can also apply if you are disabled. If you are part of an unmarried couple you can also apply to adopt.
What Do I Have to Do?
Once you have decided that you are ready to adopt a child, you need to contact your local adoption agency who will invite you to a meeting with social workers and other adoptive parents. You'll be put in contact with a social worker, who will visit you in your home to ask you all about family background, childhood and your current situation.
If you have a partner, they will want to speak to them, as well as any children. They will also interview two personal referees, supplied by you.You'll have to go to your GP and have a full medical examination, then the GP will send a report on your health and your family's health history to the medical advisor, so that they can assess any health implications of adoption, and tell the agency if they think there are reasons why you would be unlikely to be able to look after a child.
The home study assessment can take several months to complete, and can feel like a long hard slog. It's very intrusive because the agency needs to know that you will be suitable to look after a child long term – and you need to be absolutely sure you want to and can handle it. The home study report is considered by an adoption panel once you've seen it and had a chance to comment.
How Long Does it Take?
Overall, you can expect the approval process to take about eight months from your initial enquiry. Once you've been approved as a potential adopter, you'll be matched with a suitable child – this can take anything from a couple of weeks to over a year.
A court can make a formal Adoption Order when the child has been living with you for at least 13 weeks. The complete adoption process usually takes about two years from the home study assessment to the adoption order.
How Can I Become A Foster Carer?
Anyone who feels they have what it takes to look after children who can't stay with their parents for some reason can apply to be a foster carer. There is no maximum age limit.
If you would like to become a foster carer, you need to contact the local fostering service – usually it's your nearest social services department at the local council or sometimes through an independent fostering agency. They will arrange a meeting where they can explain to you in detail what fostering involves and can help you to make your mind up if you are right for fostering.
Once the agencies have decided that you are suitable to become a foster carer, here will be a Criminal Records Bureau check – just to make sure you haven't committed any criminal offences which would make you unsuitable to foster. You will also be expected to have a health check.
You'll have to complete an application form, and attend a group preparation session with people who have applied to become foster carers. Then your application is sent on to the independent fostering panel, who will make a decision about whether to recommend you as a potential foster carer. This can take up to six months.
You might also like...