Introducing Rotas Eased Household Stress: A Case Study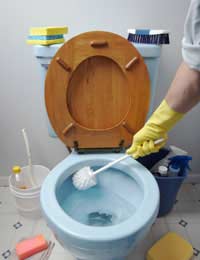 Living in a small house, with two teenage boys, and working full-time, Teri English never seemed to have a moment at home without a broom or a sponge in her hand. Then she decided to implement a rota system for housework. It took some getting used to – but it worked.
Teri said:
"I was often very resentful about the fact that so much of the housework fell to me. Rob has always worked longer hours than I have, so I seemed to be the one who was permanently at the cooker or kitchen sink. Before we had the boys it was much more even – we took turns at cooking and cleaning . Then I had time off work when I had the babies just as Rob's job got harder and suddenly it seemed to be me who was shoving the washing in the machine or running a Hoover round the house.
I Always Ended Up Doing Most of the Housework
As the boys got older and I began to work longer hours, and eventually went self-employed, working from home, they did have to do their part. They had to tidy their rooms at weekends or they wouldn't get pocket money, and sorting out the recycling became their job. Rob would occasionally cook a meal or clear up afterwards - but the nuts and bolts of shopping, cooking and cleaning still fell to me 90 percent of the time.
Things came to a head last summer when Rob had three months working at home on a particular project and the boys were around more because it was the holidays. Suddenly I realised that I was doing virtually everything for four people – at 14 and 16, the boys could almost be considered adults in the amounts of food they were consuming and the levels of mess they made! We were all around all day – eating, dirtying up plates and leaving mess behind us – yet I was the only one doing the housework. Well it was either that or I felt as if I was permanently nagging them all!
I Devised a Housework Rota
So I made a rota and told everyone they had to stick to it. The idea was that everyone would be responsible for their bedrooms and would pick up after themselves (including me and Rob). If they didn't, they would get an extra household job to do (pretty soon no-one had to be nagged!). Then the boys each had to shop for, cook and clear up after a meal once a week, Rob had to do it twice and I did it three times. OK, so it wasn't equal – but, hey, I had four nights where I didn't have to do anything! Four nights to put my feet up with a book or to watch television without the thought of a sink-full of dishes to do afterwards hanging over me.
On top of that, the boys still had to do the recycling, Rob was responsible for the normal rubbish and everyone had to take their turn at clearing up after breakfast in the morning. But the best bit was that Saturday mornings were deemed "all pitch in sessions." For two hours we would put some music on, get out the vacuum cleaner and all give the house a good clean from top to bottom! Great!
My Housework Burden Has Definitely Been Reduced
The rota lasted through the summer and into normal term-time. Of course there were teething problems. People had to swap because they were invited out (the boys), had extra school work (the boys) or couldn't get home from the office (Rob) and then there were arguments about whether swaps were fair and just how much mess each person had made – but broadly speaking it was a success.
Even though I still end up doing most of the housework now - and I still end up stressed out about it from time to time - it is nowhere near as bad as it was. I really believe that older children should help out around the house – and if both parents are working then housework should be shared between them too.
We all agree that having the framework of the rota makes sharing the chores more straightforward and I firmly believe that I am setting my boys up for the future when they have their own homes, and possibly families, to take care of.
You might also like...