I Stopped Working from Home: A Case Study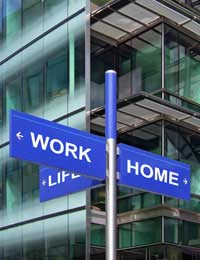 Mary Williams has been a freelance journalist for almost 10 years. When she first struck out on her own, she worked from home. Then she decided it was time for a change.
Mary said: "When I first went freelance I loved working from home. It was such a complete contrast to working in an office and it more than made up for the stress of worrying about whether I would have enough work.
"I loved being able to get up in the morning, pull on the first clothes that came to hand, without having to get the ironing board out, and then simply taking a couple of steps through into my study to work for a while before the kids got up.
"The children were, of course, another reason why working from home was ideal. I could bang out a few emails, pour cereal into bowls, present them with piles of clothes to put on and then slide back to my screen to see if I had any responses while they licked their spoons and climbed into their school uniform. In a nutshell, working from home seemed to make the juggling easier.
"An hour or two later everyone would crash out of the house and then I'd have the place to myself. I didn't ever struggle to motivate myself to work. It is hard to find distractions when you have to meet deadlines and I loved being able to shove a load of washing in with one hand as I set interviews up on the cordless phone in the other. This was multitasking in its purest form!
"For several years it continued to work well. When one of my children was ill, it just wasn't a problem. If someone needed to be in to wait for the dishwasher man, I could do it.
"But the problems really began to emerge as I got busier and busier. More and more often, I would find myself getting up at 5 am to squeeze a couple of hours of work in before the children got up – and would then be back in the study as soon as I had turned their lights off at night. If my husband had taken the little one to school that morning, I would frequently realise that it was 11pm, I was still in front of the computer – and I still had my pyjamas on from the morning!
"Very often the children would come home from school and I would have good intentions of sitting down and spending time with them, but then I would hear my work phone ring or think: 'I'll just check one more email' and before I knew it a couple of hours had passed.
"My husband and I began to realise the situation was far from ideal so we started to look at alternatives. It became clear that taking on the lease to an office would be too expensive, but then we heard about a business centre not to far from our house.
"I went to have a look and it was perfect. I would have my own room, with space for computers and phones, but there would be people around the building to chat to if I wished. The rent was all-inclusive, and reasonable, so we decided I would go for it. And one month later I moved in.
"Now, I do still work long hours – I use my laptop at home – but the act of walking out and going to work creates a good definition between home and working life.
"When I'm at work now, that's all I do, and when I'm at home, I can really focus on the children. I still enjoy the benefits of being my own boss. I can go to work when I want, take time off if a child is ill – and best of all can pull whatever clothes I like on in the morning without feeling I have to be smart.
"But the difference is that now I do stop working more often. And I also don't find myself still in front of the screen, at 11pm in the evening, still wearing last night's pyjamas!"
You might also like...