Our Hobbies Helped Reduce Stress: A Case Study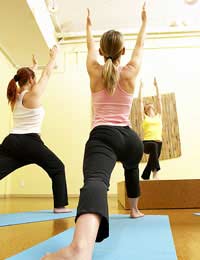 With four children, a grandma living in the house and three jobs between them, life was more than a little stressful for Ben and Alana Willis. Eventually, however, finding time for themselves offered some relief.
Alana said:
"Our lives have always been hectic. Ben is a teacher and although he has long holidays, he has long days too. He has to be up by 6.30am in order to be at school before 8am. He's rarely home before 5.30pm, as he has to clear up and mark etc and then often has evening meetings or preparation to fit in as well.
Two Jobs and Four Children
I have two jobs. I work part-time as an adult education tutor – this involves about seven hours of teaching a week but then I also have preparation and marking. I also do two full days as an administrator for a charity. It's fun but it can be really frustrating as a lot of my time is spent dealing with red tape.
If that wasn't enough, we also have four children – aged seven to 15. The kids are pretty good but it means our household is always busy. People are always coming and going, someone always has something to do – ballet, gym or football – and there's always lots of noise.
Somehow we muddled through but then two years ago things began to get even more stressful. Firstly Ben accepted a deputy headship. Initially we thought this would be great. It was what he'd been aiming for and of course there would be more money – more holidays and more "us time" we thought. Ha ha! How wrong were we! Ben's new job meant far more work – which meant longer hours and even more weekend working.
Sick Parent Had to Move in With Us
Then my mother became unwell. She lived three hours drive away and it soon became clear that she couldn't manage on her own and I just couldn't be going backwards and forwards all the time. So she came to live with us. The girls had to double up – which didn't go down well – and it meant even more stress on the household.
Ben and I began arguing all the time. We were both permanently tired and seemed to be grumpy with the children a lot of the time. They began playing up a bit more - and we just got crosser.
For a long time I just couldn't see a way of making things better. We couldn't cut down our hours for financial reasons and it just felt as if everything was on top of us all the time. Then a friend of mine suggested taking up a hobby. To be honest I laughed out loud the first time she said it – when on earth would I have time to pursue a hobby?
Then she persuaded me to join her pilates class one week. It was wonderfully relaxing and soon I was hooked. I'd sneak off for a couple of hours a week – and come back a happier, fresher person ready to face the challenges of work and home.
Converted Attic to Make More Space
Then my mum came up with a good idea. She offered us the money to convert the attic. We accepted it and after the work was finished we had two more (if small) rooms - an extra bedroom for one of the girls and a "hobby" room. I took my pilates equipment up there and soon had somewhere to escape to whenever I needed a boost.
Ben could see how much my new hobby was helping me and began to wonder how he might find time for himself in the same way. He'd always loved books and when we were younger had scoured second hand book shops whenever he could. So for his birthday present I lined one wall of the hobby room with bookshelves and set up a second-hand computer in the corner.
Now at weekends Ben tries to find time to head to car boot sales or book shops for an hour or two. If he can't – or if he has half an hour spare in the evenings – he will surf the net looking for finds and he'll sell some of his books on ebay. It has given him a different focus – something for himself that's not connected to family or school.
Our Hobbies Help Relieve the Stress
Neither of us thought we'd have time for hobbies but somehow we have found the extra hour or so we need here or there – and it has changed our lives. I'm not saying everything is perfect now but because we have different outlets, different ways of relaxing, life certainly feels less stressful at home than it did before.
You might also like...