Running My Own Business Means Less Stress: A Case Study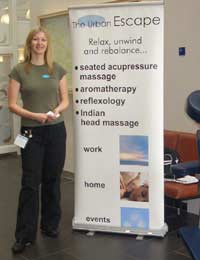 Ask most business owners whether they are under more or less stress than they were when they were employed by someone else, and they will say 'more'. But Denise Harrison finds her business is less stressful and great fun.Denise said:
"I am a chartered accountant, who specialised in forensic accounting, assisting with the financial aspects of litigation. I was working for Price Bailey as a senior manager when I decided that it was time for a change and I wanted to achieve a better work-life balance.
"I am married with two children, aged 11 and six, and had only taken 18 weeks maternity leave with each of them. I decided I needed to have more time at home and for myself. But originally, I did not think that it would be possible to reduce my role at Price Bailey.
"The idea for my business, Urban Escape, came about when I was researching a college hair dressing course for a personal injury case and noticed that the claimant's college also ran a holistic therapy course. I had always found reflexology deeply relaxing and wondered if my local college offered a similar option. It did, and I took the plunge and applied.
"But because I still had ongoing cases, I continued to work part time for Price Bailey while spending two days at college. My workload at the time was worse than ever!
"Then I started the company. The Urban Escape now offers massage and reflexology on site through Corporate Escape. We offer it at the workplace and at events and festivals, and we hold Suburban Chill parties in people's homes. These are ideal for hen parties, birthdays and even weddings!
"Now we work anywhere! We are regulars at the Latitude festival, the Lord Mayor's celebrations, Brundall Boat Festival, the Norfolk and Norwich University Hospital, fetes and fundraisers. We have even provided a corporate pamper zone on the Sandringham Estate. This year's events also include the Big Chill (Herefordshire) and hopefully, Glastonbury.
"I think the stress reducer is being in charge of your own schedule. I do believe that it would work for most people but you do need to be good at juggling - which is after all, a female trait! - and to be strict in allocating enough time for each aspect of the business, your family and yourself.
"It has worked for me as I have control over my day and get to do a range of interesting and varied work while still being able to attend school concerts and take the children to school. The children can still attend activities, and I share trips with other working mothers. It also helps that both schools have an after school club which provides childcare until 6pm. This is essential, as I finish work at differing times each day.
"Finally, I am lucky to have a willing husband who can step in to pick up children when I am running late, or who is happy to look after them over several summer weekends in the festival season. Having more time has also allowed me to take up hobbies and even attend a couple of weekly local exercise classes.
"My advice to others would be to choose something they will enjoy doing – despite being physically exhausted after 30 plus massages per day at a music festival, the buzz of working somewhere I would choose to be anyway, is fantastic.
"Also, be critical of your own strengths and limitations. I originally threw myself maniacally into the new venture, getting premises etc. and lost sight of the purpose which was to provide flexibility in my life. I also underestimated how motivated I would be working on my own. I now work with Beth Barnes, who I met at college, on corporate events, at the hospital, chill parties and festivals and we have a great time.
"Setting each other tasks with deadlines means the admin and marketing work gets done. I have realised that I am more of a team player than I thought and I really enjoy the camaraderie when we use sub-contract therapists for our larger assignments.
"Be realistic about money and, as in my case, don't be afraid to have part-time employment to provide a steady income throughout the peaks and troughs. This does make you less 'hungry' for new business, but if the aim of this change is to make life easier and more fun, then so be it.
"My hopes for the future are to expand the festival and corporate work, using more sub-contractors, and to continue helping people. Running my own business has been everything I hoped it would be – and more. I have got back in touch with my more creative side and enjoy the variety that each day brings."
You might also like...