Questionnaire: Do My Older Children Help Enough?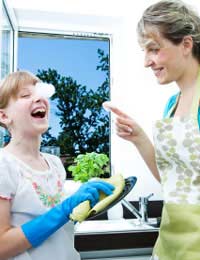 Just how much older children should help around the house is always up for discussion in busy families. No-one believes children should spend too much of their spare time doing chores – childhood and the teenage years are to be savoured and enjoyed to the full and youngsters also have to have time to focus on their school work.
But equally there are many who think older children need to learn how much work goes into house keeping and that everyone should do their part. On top of that, they need to learn how to cook, clean and tidy so they have the right skills for leaving home.
Have a go at this questionnaire to help you decide whether your older children are doing enough around the house.
1. Do your children keep their own rooms tidy?
A
– Yes. They always do it themselves. They have to pick up their dirty washing, make their beds and vacuum their bedrooms.
B
– They usually do it themselves but from time to time I'll help out. Occasionally, for example, I will run the vacuum cleaner round in their room while I'm doing the rest of the house.
C
– No. they never tidy or clean their own bedrooms. I always do it for them.
2. Do the older children take their turn...
at doing the washing up and clearing up after meals?
A – Yes, once or twice each week, each child will clear the table, load the dishwasher or wash the dishes by hand and then dry up and put away.
B – Once every so often they might offer to do it or occasionally I will ask them.
C – I find it easier to do it myself, and they usually have their own things to do – so, no.
3. Do your children have responsibility...
for other things in the house i.e. looking after animals, putting the bins out, watering the plants?
A – Yes. There are various other jobs that people have responsibility for keeping on top of.
B – There are one or two things they are supposed to do but sometimes I end up doing it for them.
C – No. There are too many arguments about whether or not they've done the job – so I just do these things myself.
4. Do the children ever cook?
A
– I try to ensure that everyone cooks at least once a week. It's good if they shop for that meal too.
B
– Occasionally they will cook a meal if they feel like doing it.
C
– No. They make too much mess, I like to retain control of the kitchen or they fuss too much if I ask them.
5. Do the children ever sort a load of washing...
and put it into the machine?
A – Yes, they do their own washing or are happy to do a load from time to time as part of a rota.
B – Sometimes – if they want something washed so they can wear it!
C – Never. I pick up their dirty clothes, sort the washing, wash it, hang it out to dry then sort it and put it back in their drawers.
6. If you ask the children to help you out...
with a job do they make a fuss?
A – Rarely. Mostly they just get on with it quietly – they appreciate how much I have to do.
B – Occasionally but mostly they are happy to help if I ask them.
C – Always – that's why it's easier not to ask them!
Answers
Total the number of times you've answer a, b or c and check out what your score means below.
Mostly As
Well done! It sounds as though you have achieved the perfect balance. Your children are not over-worked but they certainly help you out a fair amount and seem to realise the value of doing so. You are giving them fantastic life skills and the distribution of jobs should mean that no-one has too much to do.
Mostly Bs
Your older children are certainly helping out from time to time but they could probably do a bit more. Perhaps setting up a rota might be a good idea so everyone knows what they should be doing when. Don't be frightened of being a little tougher. Once everyone knows what they should be doing and when, it will make life easier.
Mostly Cs
Your older children are certainly not doing enough. It sounds as though you do everything about the house. There is nothing wrong with asking for a little help. Your children need to understand that they are responsible for clearing up after themselves and for helping out a little with the smooth running of the house. No-one is asking them to give up too much time. Try setting up a rota and seeing how it goes, or giving them ongoing responsibility for some jobs. You may well be surprised. If they refuse to help try withholding pocket money or screen time (television, computer, games consoles) until they do.
You might also like...