Questionnaire: Does My Partner Do His Share?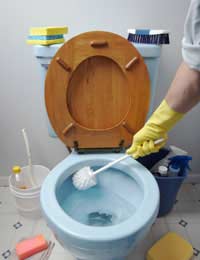 It's an age old argument and one that will probably never be resolved – just how much should each adult in the relationship be doing around the house?
There are those who feel it's clear cut – the man goes out to work, the woman manages and runs the home. Then there are those with a more modern attitude. It might be the woman who goes out to work and the man who becomes a "house husband."
But in the real world, it doesn't always work like that – we usually agree to divide at least some of the chores up. Yet many of us still feel we take on an unfair share of the burden. Often one or other member of the partnership is often unhappy with his or her lot. Then disputes arise, causing stress, rifts and even relationship breakdowns.
Have a go at this questionnaire to help you decide whether your partner is doing his or her share of the work around the house.
1. Does your partner go out to work?
A – Yes. He or she works full-time.
B – He or she has a part-time job.
C – No. He or she does not do any paid work at all.
2. Do you go out to work?
A – No, I don't work at all. I don't have a paid job. I share the money my partner makes.
B – I don't work every day but I do some hours and I bring in a regular wage.
C – Yes. I have a full-time job.
3. Who works the longest hours and has the most tiring job?
A – My partner does without question.
B – It's hard to say, it's pretty even really. We both work hard.
C – My job is much more tiring and stressful than my partner's. I also work much longer hours.
4. If you have children, who is their main carer?
A – My partner is. He or she takes on most of the responsibility.
B – We share it fairly evenly. We both believe in co-parenting.
C – I look after the children the vast majority of the time and oversee everything they are doing.
5. Who shops and cooks?
A – My partner does most of it. He or she is responsible for keeping the cupboard full and putting meals on the table.
B – We tend to take turns. We shop and cook at different times – and sometimes do it together.
C – It falls to me. I do the supermarket run, plan what we are going to eat and then cook it.
6. Who does most of the cleaning in the house?
A – The cleaning in the house largely falls to my partner.
B – We share it out pretty fairly.
C – Me! I do almost everything from vacuuming the carpets through to scrubbing the bathrooms.
Answers
Total the number of times you've answer A, B or C and check out what your score means below.
Mostly As
Oh dear! You are not really being fair are you? It sounds as though you do much less than your partner. While many would envy you for being in a position where you do very little to contribute the household financially or domestically, do take care. Your partner could easily become fed up with the situation. Why not offer to take on some of the household jobs on a regular basis? Nobody enjoys doing them but house household jobs are part of life.
Mostly Bs
Well done! You and your partner seem to have achieved the impossible. It seems as though you have achieved a balance between you, where you share the chores well depending on who is working and who is around at home. You do sometimes have to work hard at sharing but it sounds as if you have pulled it off, which will make for an easier relationship at home.
Mostly Cs
From your answers it would suggest you are doing far too much. It doesn't sound as if there is balance in this relationship. If this is the case, it is not healthy in the long term. Quite apart from the fact it is completely unfair, if you are over-worked you will become resentful and your relationship will suffer. Why not sit down with your partner and explain the situation in reasonable terms? Don't let it turn into a screaming match. Perhaps he or she has never really thought about how unfair the current situation is. Suggest a gentle new beginning, starting with one or two jobs – cooking and shopping a couple of times a week, for example. If your partner is not prepared to take on more of an equal responsibility for working to earn money or keeping the house going then perhaps you should start to question your relationship and just how happy you are in it.
You might also like...