How to Plan a Stress Free Family Holiday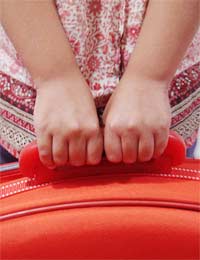 Family holidays are supposed to be relaxing but preparing for the trip and ensuring everything goes smoothly can end up being a strain itself. The key to making your holiday as stress free as possible is organisation.
Do Your Research
Always start with a list. Then add to it as you go along so no-one forgets anything essential. Research your destination thoroughly and ensure it is right for your family. Think about whether it might be suitable for children and people of different fitness levels. Will the climate be comfortable and will the food be suitable?
Do not accept information on face value. Talk to people who have been on similar family trips. Dig deep in your information seeking – it may be a hot location but find out if there is a rainy season and whether there are things to do if the weather turns. Check if there is any building work nearby, find out about local transport and consider how close shops, banks, restaurants etc will be.
Consider Your Cash
Check the exchange rate and try to find out how much things will cost. Remember that currencies fluctuate. Some destinations that might have been cheaper a couple of years ago may now be more expensive. Work out how much you will need, then create an emergency fund on top. Check bank or other cards will access money – and find out what you will be charged. Do not take your entire family holiday fund with you in cash. Make sure your mobile phone has plenty of credit but check charges for making and receiving calls and texts while abroad.
The Essentials
As soon as you decide to go, get all your passports out and check they are valid for travel. If you have any doubts or questions about whether you might need visas call the Foreign Office. If you are going to an unusual location also check whether they feel it is safe to travel there with a family and which injections you all might need. Make sure you have done this within the correct time frame. Always take out travel insurance – and with a reputable company. Read the small print and ensure you are all adequately covered for health and possessions. If you are going to Europe apply for E111 medical cards online or through a Post Office for everyone. This will make treatment easier to access while abroad.
Making a Booking
Book carefully. Make sure you are aware of how much baggage all you can take and whether there are any additional charges. This may not be immediately obvious. Check cancellation conditions. If you need a car or public transport travel at the other end, find out whether this might be cheaper or simpler to book in advance. Work out how you will get to and from the place you are travelling from (i.e. the airport).
Packing for the Trip
Pack sensibly. If flying, check hand current luggage regulations – you do not want to have to leave a precious or expensive item, such as perfume, at the gate. While there is often a temptation to over-pack your main bags, you do also need to be prepared. Pack for the weather you are expecting but have one good fall-back set of clothes each in case it changes. Wherever you are going, and however hot you expect it to be, pack a decent set of footwear. Dealing with blisters or broken shoes while abroad will only be stressful. Pack a small first aid kit. If anyone has specialist medical needs, pack everything they will require as well as a letter translated into the local language explaining the condition.
Children's Needs
If travelling with small children ensure each one has a bag packed with suitable activities for travelling. MP3 players with stories and music on, small notepads and coloured pencils and hand-held games can be a good idea. Pack snacks that will last the journey as well as tissues and wet wipes. If travelling with small children put a spare set of light weight clothes or pyjamas into your own hand luggage. Check if you will need a car seat or buggy at the other end.
Plan Your Time
While you will want to explore and discover your destination when you arrive, do some planning in advance. Consider and agree on what you might like to do on each day while you are at home. You can always adapt your plans when you arrive but at least you will have something to fall back on and will not waste time arguing or carrying out too much research while you are there. Finally, remember to let your hair down and find time to enjoy escaping the daily responsibilities of home. Going on holiday can be a wonderful experience and a change can be as good as a rest.
You might also like...