Child Free Living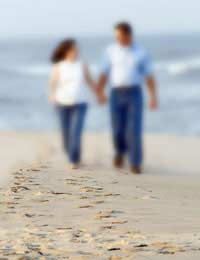 Some experts have predicted that 25% of families will be child free by 2010, and this is due to factors such as lifestyle choice, lack of a decent partner, and infertility.
Whether you have decided to remain child free out of choice, or wanted children but they just haven't come along, there's no denying that we live in a society that's increasingly children-focused and if you are childless you can find yourself being overlooked at times.
How To Deal With Families
Parents can be the worst when it comes to their own children not providing them with grandchildren to spoil. If you've been trying but had no luck so far, it can be really difficult when aunts and people you haven't seen for a while start innocently enquiring about the patter of tiny feet. If you simply don't want children, the tut tutting and nagging can seem overwhelming at times.
It can be hard to deal with other people's expectations of you when it comes to children, even if you and your partner have made a joint decision to be child free and are quite happy with that decision.
The best way to deal with the situation is calmly and firmly. You don't have to make excuses for your lifestyle choices. It's also worth remembering that most caring friends and family would be mortified if they thought that their constant enquiries after your reproductive plans were upsetting you.
If you don't want to discuss the finer details of infertility, explain to family that you don't want to discuss the subject of children as it upsets you. If, on the other hand you just wish they'd shut up asking because you are never going to change your mind, say so. It's your decision not to have children and they should respect that.
Being Child Free At Work
Government figures show that around 20% of British women are likely to remain childless, and that being child free is more likely among educated, professional women. But having children can seem like the best ever excuse to get away from the office early, get out of overnight team building sessions in cheap hotels, and get all of the best holiday, and it can be irritating if you're not one of the 'buggy crowd'.
Remember that you have a family and a life too, and you should be entitled to assert yourself even if you don't have sick children or a babysitting crisis to attend to. If it starts to feel as if the parents in the office are getting their own way to the detriment of the single or child free among you, it's up to you to bring the subject up.
If you need time off for your own reasons – be they family or otherwise, you are just as entitled to annual leave as someone who has children. Of course, we all have to be tolerant of other people's needs but it can feel like a one way street, so stand your ground.
Most employment contracts will set out rules for annual leave, compassionate leave and things like doctor and dental appointments, and if you find that your requests are being undermined by those in the office who have children, don't suffer in silence. Speak to your manager about the situation, and point out that you feel you're being taken for granted.
Being child free shouldn't mean that you are penalised – whether it's comments from well meaning friends or blatant discrimination when it comes to work. Not having children is not a crime, it's a personal choice!
You might also like...