When the Kids Leave Home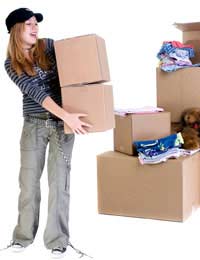 If you're just about to see your child or the last of your children fly the nest – maybe they are off to university, or even moving in with a partner, it can be hard. The kids are getting their first real taste of independence, so they will be excitedly preparing for their new life. At the same time, you can feel a little sad and empty at the thought of losing your baby after all these years.
You wouldn't be alone if you were feeling a little sad. This feeling has long been called empty nest syndrome. It's hard to accept that as a parent, your job is to bring your children up as best you can – so that they can leave you!
Conflicting Feelings When Your Children Move Out
It's actually not a bad thing to admit you might be a little relieved when your child moves out. The teenage years are difficult for most parents and children, and your home may have felt a little like a battle ground at times. It's OK to look forward to having more peace and quiet, less mess and more time to do the things you want to do.
At the same time, you might also be feeling a sense of loss – it's not surprising after all those years of nurturing your children. It can be tough to see them go off into the world without you, seemingly not needing you. It's not called empty nest syndrome for nothing!
Finding Yourself Again
When you've spent so many years of your life looking after children and putting their needs first, you can almost feel as if you have to rediscover your own! You have to start thinking about what you want from the rest of your life, and not let the fact that you no longer have someone else to fuss around leave a big gap in your life.
Think about all of the things that you really fancied doing when you were bringing the children up. It sounds like a cliché but now's the time to join that class, whether it's learning a language, or salsa dancing. You can go away for weekends and holidays without worrying that the children are going to advertise a party on Facebook and trash the house for when you get back. You have all that freedom...so use it.
It's OK To Feel Sad When Kids Move Out
It's normal to feel depressed, sad – and even sometimes as if you've lost some of your sense of purpose. Don't keep these feelings to yourself though, talk to someone you know, or even a GP if you don't think you can talk to a friend, and try not to bottle difficult feelings up.
Don't let yourself become dependent on your children after they've moved out. Needing to know what the kids are up to and trying to stay over-involved with their day to day lives won't help you – and it won't help them become independent adults either. Its fine to show a healthy interest in what they are doing of course, calling them every day and unexpected visits will just annoy them. You both need space and to be able to move on into the next stage of your lives.
Think Positive
The children moving out is not the end of the world as you know it, but the start of a new chapter in your life. You could have many more years of active life left in you so get out there and make the most of them...before long the kids will be jealous of your lifestyle!
You might also like...