Living Together for the First Time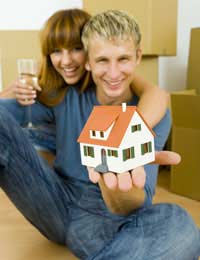 Moving in together is seen as one of the big relationship steps – some couples do it as a trial run for their relationship before they get married and some never quite get around to getting married. With some couples, moving in together seems to happen gradually. First it's the toothbrush in the bathroom and the mug in the kitchen; then it's a spare drawer for 'his things' – and a spare key.
Full time living together should be a decision that you both make, and go into with open eyes.
How Long Should We Wait?
This question is almost impossible to answer without knowing the details of a relationship. Some people move in with each other at almost breakneck speed, after a few weeks or months. While this can work, it's not always a good idea to rush into things when you're in the first flushes of a new love. You might want to spend all your time with him now, but after a while you'll find that the infatuation fades slightly and you can start seeing the faults of the wonderful creature you've just fallen for.
Once that happens and you still want to live with him – go ahead! Try a few weekends away, holidays and overnight stays before you jump into full time cohabiting and see how it feels to spend time doing everyday things together.
Where Should We Live?
This all depends on your individual circumstances. Financially, it's easier to buy or even to rent a home as a couple, so you have a better choice of place to live in from that start. However, if one of you already has a property, this is where things start getting complicated. Even if you contribute towards the bills and maintenance of your joint home, don't make the mistake of thinking that you are legally entitled to anything back if the relationship fails. Legally, you have very few rights as a cohabiting couple.
Unless you have an agreement between you that sets out what happens in the event that your relationship breaks down, then you have no right to stay in a house that you've shared with someone if they own it.
There's also the issue of 'my' house versus 'your house' – if one of you moves into another's place then the person who moves in may feel like a paying guest – while the other half of the couple feels like someone has come in and is moving all their furniture about!
The Finances
Boring as it sounds, if you're going to live together, you need to discuss money before moving in together. Will you have a joint account? Does one of you earn more than the other, or not have a job at all? Are there any children?
All of these issues need to be resolved before you set foot in the front door of a shared house. If you have a joint account where all of your money is pooled, you could find that this leads to arguments about who's spending what.
The opposite option – completely separate accounts – can be just as limiting.
Some couples find that a good compromise is to set up a joint account just for bills and household expenses before moving in together, so that they each contribute an agreed amount every week or month. That way they have their own money to spend and it also gets around the issue of buying presents for each other from a joint account!
Moving in together is a big relationship milestone – if you get it right from the start you will stand your relationship in good stead for years to come.
You might also like...