Time to Read With Your Child: Interview With a Teacher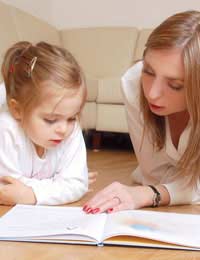 Ian Scott has been a primary school teacher for 15 years. As a father of three as well, he knows the value of making time to read quietly with your child rather than doing it in a rush at the last minute – or not doing it at all.
Q: When should parents start helping their children to learn to read?
A: Well, in a way it's a process that begins from the moment a child is born. To ensure an interest in books parents ought to make time to read aloud to their babies, interesting them in the pictures and helping them to develop their listening skills from a very young age. This is not something they should be considering a chore, something they have to make time to do. It offers a chance to sit quietly with your baby and really bond together over a shared activity. During stressful times at home, parents can take their baby or small child into a quiet space and simply sit together and unwind over a story.
Q: How does this move on to the actual process of reading?
A: As children become more interested in books they begin to realise the words have meaning. Sometimes they will almost learn favourite tales off by heart and then start to repeat them and link the story with the words. Sometimes they will begin to recognise certain words and letters themselves – or you can start to gently introduce them.
Q: Should parents take a lead from teachers in this area?
A: Yes, certainly speak to your child's teacher, playgroup or nursery leader but do also be driven by the pace at which the child seems to want to move. If they are interested in words and letters then make the most of that interest and encourage it. If you are concerned about a lack of interest then speak to the teacher. If a child seems to be struggling with reading encourage them to look at the pictures for clues.
Q: But what if a child simply isn't interested? Sitting down and reading can then be very stressful?
A: It is vital that you make it as stress-free as possible. Choose a quiet time when you and your child can really concentrate for a while together. A few minutes every day is better than nothing at all. Don't try to do their reading in the last five minutes before you rush out of the door to take them to school or if they are tired and grouchy as soon as they come in. Make sure they have had something to eat and drink, and that they've had a chance to relax first.
Q: Is it good to get into a routine?
A: Yes. Children love routines and respond well to them. This is why it is so important to start reading with your child as early as possible. Get into the habit of reading with them at a certain point in the day, perhaps after their bath. You could read to them first to encourage their interest, then listen to them reading and help them as they go, for five or 10 minutes. Make sure the television and radio are switched off and that there are no other diversions.
Q: What else can I do to make the whole process less stressful?
A: Once again, it's all about encouraging a general love of books. Take them to the library to story time sessions and allow them to choose whatever they like. Encourage them to listen to story CDs with follow-along books. Discover their interests and then really latch on to them. There are all sorts of wonderful children's books out there. And don't forget that computer games and comics can encourage reading skills too. Look for fun games that help them to learn letter sounds and require them to read in order to play. Choose comics with easy reading and writing exercises that are also fun. Finally, don't think of the process as stressful. Try to relax and enjoy helping your child to develop.
You might also like...