Stress Free Education: Make School Work Fun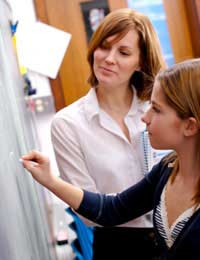 If you want to make school a place that your children actually enjoy going to, rather than a place they endure five days a week and have to be forced to go to, you have to sell the idea as it being fun!
Introduction to the World of School and Learning
One of the best things you can do for your children before they even start school is give them the thirst for knowledge, and this is easily done by reading to and with them from an early age.
Reading from an early age helps to stimulate children's imagination, and they will be keen to find out more about the world. Sell school as a place where they will be able to find even more books and where they can find out all sorts of great things about the things they are interested in.
When Your Child Starts School
It's really important to show an interest in what they are learning about, and try to encourage your children to tell you about their day, and what they've been doing at school. For example, if they have been learning about other countries, take an active interest by looking up the places they have been working on, on the Internet. Or get a book from the library and talk to them about the country and the people who live there.
Play dumb, and ask the children to tell you about what they've been learning, as if you don't know. Research has shown that teaching somebody else newly learned information actually helps children (and grown ups) to understand it better themselves. All children like to think they know better than their parents.
Out Of School Activities
Keep your children's minds active by doing fun things with them outside of school which they can associate with learning. Make the activities fun as well as educational, and encourage them to go into class and tell all of their friends what they've been up to. This not only gives them fun things to do, and encourages them to learn, but makes them keen to go into school and tell people about it.
Try reading and summer activity clubs in the school holidays, museums that encourage children to interact with the exhibits (like the Science Museum in London) – and visit historic buildings and try to get the kids to imagine what it would have been like living in the times the buildings were built.
Try playing educational video and computer games with the children, and combine learning out of school with going to school. Find out what they are doing in the classroom and see if you can find a video game that covers similar subject. There are plenty of educational toys which can also help, and the Internet is a great source of information if your child is stuck with their homework.
Homework And Parent Teacher Evenings
Show that you care by helping the children with school homework wherever you can, and showing an interest in what they are doing. You could make the schoolwork more enticing by offering your own rewards for good marks in tests and for routine homework. Set a challenge to achieve a certain mark (which you can of course help with) and if they manage to achieve this, they are treated to a day out, a toy, even a favourite meal.
Make sure that you always attend school events – sports days, plays and parent teacher nights. If you think your child is struggling with something, have a chat with the teachers and see if there's anything you can do to help.
You might also like...