Holidays and Days Out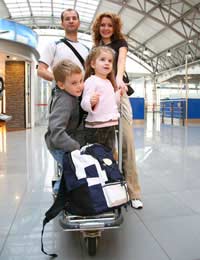 When it comes to school holidays and weekends, there can seem to be a lot of time to fill, and if you have no ideas about what to do or where to take the kids for days out, it can be stressful. Add to that the fact that we're all trying to save pennies at the moment and it can make holidays a minefield.
Choosing Somewhere To Go
Everyone will be going on this holiday or outing, so the best way to fairly decide on what you're doing is to involve everyone in the decision making. If the kids desperately want to go to a theme park, and money or your sanity makes that a bad idea, maybe you could improvise by finding a local fair that might have a few fairground rides. In the summer there are lots of them, so look at local interest websites and newspapers for advance information and see whether a compromise can be reached.
If animals are a shared love, you don't have to pay out for an expensive zoo or wildlife park – try a local farm that has a petting zoo, there are a lot of them. Some animal rescue centres also have open days where kids can learn about pet care – just don't let them fall in love with an adorable puppy and want to bring it home with them...
If a decision can't be made on where to go for days out or it's causing arguments, the diplomatic approach is to let everyone have their own say on a different day. If one child's idea of hell is the local military museum, but another wants to spend all day there, make a deal that the following day the unimpressed member of the family gets to choose!
Cheap Days Out
There's plenty that you can do if you just fancy a few days out, and it doesn't have to cost a fortune either. If you want to explore new areas, look out for special family rail deals, there are plenty of offers that just involve you booking your tickets well in advance. Some rail operators offer deals all through the summer for families and off peak travel.
Museums are an inexpensive place to visit for days out, even the big London attraction museums which will keep kids occupied for hours don't cost much to visit, in fact most only ask for a voluntary donation. There's the Natural History Museum, Victoria and Albert, Science Museum and more, and all the art galleries in London like the Tate Modern and National Gallery are currently free to get in. Indulge the culture vultures in your family with a day out in London on the cheap!
Longer Breaks And Holidays
When you're all going away on holiday together, and you know that you'll all be spending time under each other's feet, it's important that everyone gets a say in the decisions about where you go on holiday. Decide whether you want a beach, town or country break, and try to make sure that everyone gets their say. Perhaps look at places that encompass all three options – or if you're going abroad take a vote on which country you want to visit this year.
Bear in mind that small children may like the sound of far flung places but neither you or they will enjoy long plane journeys with nothing to do. So make sure that the kids know what a trip halfway around the world will entail if they want to go...Make sure that there are enough things to occupy children on longer breaks and holidays. Just being in a new place probably won't be enough to stop them getting bored, so research the area thoroughly and think about whether there are places you can visit for days out as a family when you're there. Children soon get bored with beaches.
You might also like...