Shared Interests and Hobbies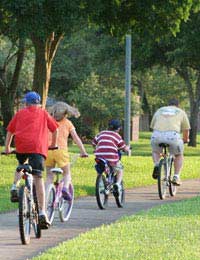 When you read articles about what keeps a family and a relationship fresh, one of the old favourites seems to be 'finding shared interests' or 'having hobbies that you can enjoy as a couple.' It's true that having family time together is likely to give you all a focus, and make you spend time together that you might have previously spent watching TV or in separate rooms. But what are the things that you could do together as a family?
Fitness And Exercise Related Hobbies
You could manage two things at once – keeping your family fit and healthy while spending some time together – join a local sports centre and take up a form of sport that you all enjoy. Joining a gym or going swimming isn't probably that good for conversation, but something competitive like tennis or squash would be fun and keep the family entertained.
Martial arts, gymnastics and dancing are good sports to get into for the social aspect, and are enjoyed by children and adults alike. Make new friends that you can also share.
If you don't have a gym, or the money to pay for sporting activities, get on your bikes and go for an exploratory ride around areas you don't usually go...or walk in the park. Going for long walks will give you the opportunity to talk as well as exercise, and younger children will enjoy the opportunity to explore, look for flowers and plants, kick leaves and snow around, or jump in puddles...
Shared Interests And Clubs
An interest doesn't have to be shared with every member of the family – perhaps two of you are cinema buffs so you could join an unlimited cinema scheme and pay monthly to see as many films as you like, then come home and talk about them! The same with books – older children might appreciate their own version of a book club where they read a specific book every month and then come back and talk about it with you and each other. This will stimulate their love of reading – let them choose their own books and set questions for discussion like a 'grown up' book club.
Encourage hobbies and interests that can be shared with other people outside of the family too. Collecting is a very solitary interest but if your child or partner seems to be spending a lot of time looking at old coins or stamps, why not look into history clubs so that they can broaden their knowledge and interests and make friends too?
Games You Can Play Together
Most kids and in fact, most of their parents, like playing video and computer games, so why not turn the love of games into a family pursuit? Set up a family league for games – one good games console that is ideal for families and covers all areas of interest is the Nintendo wii. There are plenty of slightly more interactive games for kids and adults to play, and you can set up your own character (called a Mii) to compete in different games.
Board games are always a winner, and many of the old classics are now available in DVD version, as are many TV games such as Deal or No Deal. These games might hold children's interest for longer than the traditional board related games – and aren't quite so prone to being thrown on the floor when the loser has a tantrum...
You might also like...