When Household Appliances Break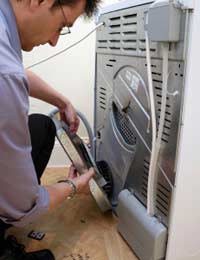 It's always the same, isn't it? Right when you have about six loads of washing to do, the machine breaks down, and invariably on a Sunday when you can't call anyone else out to help. If you know next to nothing about appliance repairs, it can be a hassle trying to get things sorted out. But you can avoid 'broken appliance stresses by taking a few precautions.
When Central Heating Appliances Break Down
This one's the worst – as it invariably happens when the weather makes it necessary for the heating to be working. In the event of a boiler breakdown, don't even think of trying to bodge a repair yourself. Gas boilers are dangerous in the wrong hands.
The best thing to do is take action before there's a problem, and sign up to a protection plan that covers your system for breakdown, usually also offering you a free inspection on an annual basis. These can cost around £10 a month but if you consider the cost of a new boiler and/or calling out a CORGI registered gas engineer out of hours, it's a price well worth paying.
Most of the energy companies have a scheme in place to insure your central heating system against breakdown. If you have an older system, it may be harder to get covered, but British Gas, for example, will still offer you an annual inspection and cover the available parts.
If the problem is with radiators, these can easily be 'bled' using a radiator key which you can pick up from DIY stores. Simply put a bowl underneath where you are unscrewing the radiator, and wait for the hiss which means you're releasing air. Once all the air has escaped, water will follow, which is why you need a bowl. Don't do this while the heating is turned on or you could burn yourself!
Kitchen And Small Household Appliances
Small kitchen appliances are, sadly, not well known for lasting many years. To be honest, if your kettle, toaster or vacuum cleaner dies a death, it's better to replace them as the cost of repair would be more than buying a new one. The exception to this rule is if the appliance is less than six months old, in which case you can return to the shop where you bought it, armed with proof of purchase, and ask for a refund, replacement or repair under the Sale of Goods Act.
If your kettle explodes after a few weeks, you have every right to ask for a full refund, but if after six months of constant use the kettle starts to go wrong, you may have to be reasonable and accept a repair or replacement.
Some appliances also come with manufacturer's warranties; this is another avenue you can take if you want to claim a replacement or a repair. Legally, a warranty is additional to your statutory rights under the Sale of Goods Act, so you can't force the manufacturer to honour the terms of the guarantee. Your contract is with the seller of the goods. In general, it's not worth taking out shop-bought insurance policies to cover small items.
White Goods And Larger Appliances
Fridges, freezers, washing machines – all apt to go wrong when you least expect it. Again, your rights under the Sale of Goods Act entitle you to ask the seller of the item for redress if you have problems within six months, and you are entitled to stand your ground and ask for money, repairs or replacement items because the law states that up to six months, if something you buy turns out to be faulty, it's accepted that the fault was there at the time of purchase. This puts the seller in breach of contract.
If the item has been heavily used, you would expect to get a refund minus usage ... so sometimes it's better and less costly to accept a repair or replacement. It's all down to what's 'reasonable'. If you've had the item more than six months you do still have legal rights, you just have to be prepared to prove that the fault wasn't something you did or didn't do. It's not so clear cut but many shops will be as helpful as they can especially if you are asking for repairs.
Shops also sell insurance cover for larger appliances, and whether this is worth taking out depends on the appliance. Washing machines have so many moving parts that they are more likely to develop a fault than perhaps a freezer is – and losing the contents of a freezer however inconvenient, may be covered under some home contents insurance policies. Don't cover yourself twice! Some contents policies cover appliance breakdown as a whole, so investigate this before you pay for more cover.
You might also like...