Creating Your Own Space at Home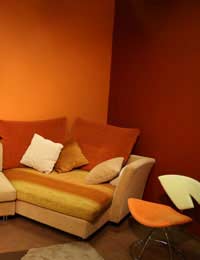 You lead a busy life at home and at work, and sometimes it's hard to find the time and space to just stop and relax. Many of us are in the same boat and before long we are aware that the stress is building up and we are almost reaching breaking point.
So what's the solution? Well, there are all sorts of steps you can take to relieve the stress of a busy life but one of the first things to do is to insist on some personal time and space at home.
Starting to Create your Own Space
The first step is to see if you can actually find a physical space within your own home that you can claim as your own. The ideal would be a small box room or spare bedroom but if you live in a full or busy household this might not be possible. Do you perhaps have a cellar or loft that could be converted to give you the private space you need? Or is there space in the garden to erect a summer house or even small shed that you could insulate and slide off to when you need some time alone?
If all these solutions are impossible then consider cupboard space. Built-in wardrobes can sometimes be removed or under-stair space utilised. With clever partitioning, these could give you just enough room for a yoga mat, comfortable chair or small desk.
Making Your Space Your Own
Depending on the size of your space, work out how best to use it. Sit down with a pencil and pad and sketch out a few plans. It will require some work but knowing what the end result could be will give you the inspiration to keep going. Work out what furniture will fit in the space and what else you are likely to need in there. Would it help to have book shelves, a computer space, a music system or a television? Do you require other accessories to be able to pursue a particular hobby? Or do you just need somewhere to sit and relax – somewhere you can shut the door on the rest of the world?
Get Stuck into Your Own Space
Do spend time redecorating your new bolthole. This will make it feel truly your own. Paint the walls and ceiling, and even splash out on a new rug or some carpet tiles. Then bring in the items you have ear-marked for the space and arrange it to the plans you have already.
Let Them know This is Your Space
Finally, you must explain quite clearly to your family that when you are in your own space you are not to be disturbed unless it is an emergency. There is no point creating somewhere that is just for you if everyone else is in and out all the time. If you have a partner, tell your children that he or she is the one to talk to when you are in your space. Explain that you won't be in there all the time but you do need an hour or two every so often.
Finally, do make sure you insist on your time in your space. Schedule in some time to be alone and then follow through with your plans. Even 15 minutes alone every day in your bolthole will make a difference to your health and wellbeing. It will make you a less stressed happier person for everyone else to be around as well.
You might also like...