Choosing Your Cleaning Products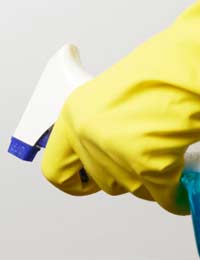 It's one of those inescapable facts of life – if you have a home, you'll need to keep it clean. There are thousands of products on the market to clean different parts of the house and whole supermarket aisles dedicated to them, so how can you chose the best for you without spending extra cash on things you don't need?
It's nearly impossible to come up with a perfect list for everyone – all homes have different needs and surfaces, furniture, kids and pets. But there are some basic products and tools that we can all make use of.
Basic Dusting And Cleaning Supplies
It might seem that no sooner have you dusted than you have to do it again, but it's important to keep the house as dust free as possible to avoid allergies. The products you'll use for general dusting should include dusters and microfibre cloths, furniture polish and a vacuum cleaner with an attachment that can be used to get into corners and ceilings.
General Surface Cleaning Products
This is where it gets complicated. There seems to be a product for every surface, but it can save money if you look out for something that's labelled as an 'all-purpose cleaner' as this can save time too. Not to mention storage space! Many of the different products do the same thing anyway – they just smell different!
As well as all purpose cleaner, you might want to try some kitchen and bathroom wipes – toilet cleaning wipes in particular are handy for quick clean ups and have usually got an anti-bacterial in them. Kitchen wipes are similar but won't have such strong smelling anti-bacterial ingredients for obvious reasons.
You'll also need rubber cloves, cloths and scrubbing pads.
Cleaning Floors
Floors can get filthy and so they need to be cleaned regularly to avoid build up of grime and germs. Depending on the type of floor coverings you have in your house, you'll need to get a broom and a mop (for hard floors) and a vacuum cleaner (for carpets, although modern vacuums come with hard floor attachments).
Floor cleaning products will vary depending on the type of floor – if you have wooden floors you'll probably want to take care of them with specialist products but laminate and vinyl flooring can be cleaned with floor cleaning wipes or a mop and bucket.
Green Cleaning Supplies
It's possible to buy environmentally friendly cleaning products from most supermarkets, although these can be an expensive option. If you prefer, you can copy the TV shows and have a go at making your own products which won't harm the environment. These are cheap and effective.
Vinegar is a natural all-purpose cleaner. To make a vinegar cleaning solution, try mixing up a solution of one part water to one part vinegar in a spray bottle, and this will be effective at cleaning pretty much all areas of the house. Vinegar also works well as a natural disinfectant and deodoriser. Test it first somewhere out of view just to be on the safe side, to make sure it won't mark surfaces.
Lemon juice is another cheap and natural product that can easily be adapted to clean your home. It's great for can be used to dissolving soap scum and for cleaning copper and brass, and bringing them back to a shine. Mix lemon juice with vinegar and or baking soda for extra cleaning power, or you could try cutting a lemon in half and sprinkling baking soda on the cut section.
Use the cut lemon half to scrub your dishes, surfaces, and remove stains – and the juice can even be used with olive oil to make a furniture polish.
Another clever and economic trick is to use baking soda for scrubbing surfaces, as if it were a commercial abrasive cleaner. It's another great deodoriser too.
You might also like...