Dealing With the Household Chores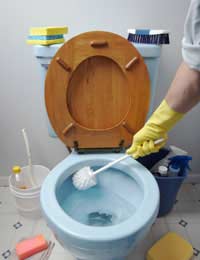 Housework is a dull and thankless task, but the feeling you get from sitting down after a thorough clean and seeing everything gleaming back at you makes it all worth doing – of course, until you need to do it all over again...
Organising The Chores
Some chores need to be done more regularly than others, and it's worth making a note of the less regular ones so that they don't get overlooked. For example you may only have to turn a mattress, clean the windows or change the water filter every few weeks – how do you remember when this needs doing. Unless you're super woman (or man) you can either write it in a diary, on a calendar in the kitchen, or if you're technically minded set up spreadsheets and calendar entries on your PC. There are even computer software packages that can help you.
You just need to find a way of tracking all the annoying little jobs that you need to do, and reminding yourself and other people that you need to do them.
Weekly chores tend to be best done by routine – you know the sheets have to be washed every week, the bathroom needs a thorough clean once a week, and the place needs a good going over with a duster and vacuum once a week too. It's easier to keep track of regular chores like this if you set aside one day a week for blitzing them all.
Getting Everyone Involved
Obviously if you live alone, the state of your house is down to you alone, and you can't really ask anyone else to do the housework for you (unless you hire a cleaner which is always a good option...) However, if you have a partner or children that are old enough to help, don't get stuck in the "Oh I'll do it myself" rut – you all live there, and you should all take equal responsibility for looking after your living space.
If the kids all have their own bedroom, they are responsible for keeping it tidy once they are old enough. Make sure they know that if they leave their favourite clothes on the bedroom floor they won't be washed (this also applies to partners) and for anything to be washed it must be placed in the appropriate linen basket.
Impress upon children that if they leave things lying around and someone treads on and breaks them, they won't be replaced. Set targets and offer incentives for keeping rooms clean and helping with jobs around the house - extra pocket money for anyone who helps with the housework. The incentives that you offer your partner for remembering to put the bins out are up to you!
Setting Up A Rota For The Chores
Set up a rota for in a place where everyone can see it, so that there's no doubt as to what needs doing, and when and by whom. This could be another use for the spread sheets that you create, e-mail them to everyone and there are no arguments about who was responsible for which chore - thus eradicating the excuse "I didn't know I had to do it today."
If your loved ones are receiving e-mailed reminders on their PC telling them to tidy their bedroom there are absolutely no excuses.
You might also like...