Keep a Tidy House When You Have Kids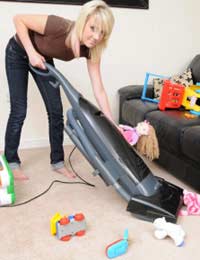 It sounds like the impossible ideal – a tidy home and a brood of well behaved children who are also neat freaks. Actually, unless you are very lucky indeed, the chances of your kids being the tidy type are remote, especially if they are still young. But there are ways to keep your home looking 'visitor ready' even when you have children, in fact you can use the army of little helpers to your advantage if you're clever!
Start From A Young Age!
It's a good idea to try and get children to be neat and tidy from an early age if it's at all possible. A little training will instill in them the importance of not leaving their toys around so that mummy and daddy trip over them and get cross!
As the kids get used to living in a reasonably tidy and organised living space, they will accept it as being the way things should be and not feel too aggrieved by demands to tidy their bedroom. Well, that's the plan and if you teach them well enough, they could eventually grow to be house proud adults rather than messy slobs.
To start with, as soon as the kids are old enough to understand, set them some ground rules so that there will be no misunderstandings. Show them where their toys should be put away, and younger children will appreciate having their own toy box which they can perhaps decorate and personalise themselves.
Train them to throw their rubbish in the right bins, or recycle old toys, and pin little notes up reminding them to put their toys away when they've finished with them. The kids could even design their own posters. Explain why things need to be tidied away – because they might be accidentally broken or cause an accident if they are left lying in the middle of the stairs.
Get Tidy And Organised
If it's obvious to the kids where their belongings and their rubbish should go, they will have no excuse for leaving things all over the house. Get them involved in organising their bedrooms to make the most of the space and storage, buy brightly coloured and attractive storage boxes which they can personalise.
Reward The Kids For Keeping Things Tidy
Bribery it may be, but if you start your own system of rewards for things like the tidiest room or 'Mummy's biggest helper' you will find it easier to motivate the children to help you tidy the kitchen or put their mess away.
Set a weekly room inspection and award a small toy or money for the piggy bank to the person you decide has been the tidiest. Or offer treats to children who help with washing up and tidying the rest of the house. They still won't enjoy hoovering, but at least they will have an incentive to do it.
Keep Tidy And Clutter Free
Encourage the kids to recycle, donate or give away old toys that are still usable but have fallen out of favour. If something is broken and can't be repaired, throw it away, don't hoard it. It's of no use to anyone and the kids have to learn that if they don't look after toys, and they end up broken, they won't be replaced. This encourages them to value their possessions and look after them a little more.
Give away clothes and shoes that don't fit – hand them down to friends and relatives, donate them to a charity collection or sell them on eBay...there's no need to keep them 'just in case'.
Tidy up regularly and don't leave it all for a once-weekly cleaning blitz. Get the kids into a daily tidying routine and it won't be such a big hassle to get them to tidy up at the weekend or when you have people coming over.
You might also like...